The Walker School of Education works hard to provide programs that benefit learning outcomes and the students within our program. With the help of our faculty, students can not only benefit themselves, but they can also become leaders within their schools.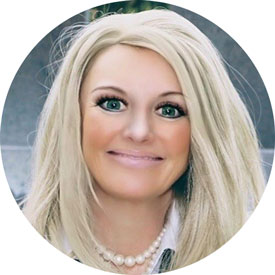 Dr. Sara Tiedeman
Dean, Walker School of Education
BS, MEd, Ed.D., University of South Dakota
Dr. Sara Tiedeman became the Dean of the Walker School of Education at Midland University in June 2019. Dr. Tiedeman previously served as the director of Northwestern College's Master of Education degree programs and the chair of the undergraduate Teacher Education department.
Before that, she was an associate professor at Arizona State University and a contract specialist and data analyst for edCount, which is based in Washington, D.C., and provides systems and services for educators across the U.S. Dr. Tiedeman has also taught at South Dakota State University, has experience as a K-12 teacher of English as a second language and district administrator of federal programs, and previously served on the executive board for the Council for the Accreditation of Educator Preparation.
Jamie Folkers
Administrative Coordinator and Certification Officer
Jamie Folkers has been the Administrative Coordinator for the Walker School of Education since 2016. She has been the Certification Officer for Midland since 2019. She is a former elementary education teacher and youth director for her local church. She graduated from the University of Northern Iowa with a BA and MA in Education. Jamie works with the dean of the Walker School of Education and all faculty to help coordinate all the behind the scenes work necessary to run the undergrad and graduate level programs offered at Midland. She also works with the Nebraska Department of Education on all things related to teacher certification. Her favorite part of working at Midland is seeing the dedication the faculty has in providing great experiences for students at the undergraduate and graduate levels.
Dr. Gerald "Jerry" Beach
Adjunct Instructor, Midland University
BS, MEd, Ed.D., University of Nebraska-Lincoln
Dr. Jerry Beach has been an adjunct instructor for the Midland University Walker School of education since 2010. In addition to teaching at the graduate and undergraduate levels, Jerry supervises Midland University teacher candidates (student teachers) at all grade levels in a variety of curriculum content areas.
Jerry's educational career began in 1977 in Bradshaw, Nebraska. He then went on to serve as a secondary principal in the public schools of Aurora, NE. Finally, Jerry served as the Fort Calhoun Community Schools superintendent before retiring from the position in 2010.
"The Midland M.Ed. program's hybrid structure provides real value to both the students and faculty. During our face-to-face sessions, I get the chance to put students' faces with the names I see on the online coursework. It's incredible to see students form a community of fellow educators that will last a lifetime while I get to know them on a personal level during our in-person classes."
Nancy Christensen
Assistant Professor of Education, Midland University
B.S., University of Nebraska Lincoln
MEd, Doane University
Nancy Christensen is currently serving as Assistant Professor of Education at Midland University, teaching in both the undergraduate and M.Ed. programs. Nancy earned her Bachelor's Degree from the University of Nebraska at Lincoln and holds a Master's Degree in Curriculum & Instruction from Doane University. She spent the first years of her career serving as a reading specialist in Omaha Public Schools and then a classroom teacher in Fremont Public Schools. Nancy then transitioned into an Instructional Writing Coach for K-8 Teachers and an Independent Consultant providing professional development in teaching writing for more than 25 districts in Nebraska, Iowa, and North Dakota.
Dr. Angela Mosier
9-12 Mathematics Dept. Head, Westside Community Schools
Adjunct Instructor, Midland MEd
BS, University of Nebraska at Omaha
MA, University of Nebraska at Omaha
Ed.D., Walden University
Angela has been a secondary mathematics teacher since 1999, when she started teaching for the Westside Community School district. Currently a National Board Certified Teacher, Angela earned her certification in early adolescence mathematics in 2007 and completed the recertification process in 2017. Angela is the 2013 Nebraska State Teacher of the Year.
Throughout her career, Angela has focused on servant leadership by helping new teachers grow instructionally and promoting leadership skills in others. These skills, as promoted throughout the National Board Certification process, are essential to the teaching profession. As an instructor for Midland's master of education graduate program, she hopes to strengthen these characteristics in her students as she supports their journey in the National Board certification process.
Carla Noerrlinger
Director of Research Division, Omaha Public Schools
Adjunct Instructor, Midland MEd
As an educator, I was employed by the Omaha Public Schools (OPS) for 39 years serving in many different roles. After my retirement in July 2014, I became an adjunct instructor at Midland University in the Walker School of Education. In this capacity, I assist graduate students in the Leadership in Teaching and Learning program as they designed, researched, and implemented action research projects. Additionally, I have supervised elementary, middle school, and special education teacher candidates in their capstone clinical experiences.
I have a Master of Education in Administration and an Endorsement in Assessment certified by the State of Nebraska.
Dr. Tony Weers
Director of Secondary Education, Millard Public Schools
Adjunct Instructor, Midland MEd
BA, Dana College
MA, Doane University
Ed.D. University of Nebraska-Omaha
With 20 years of experience as a teacher, building administrator, superintendent, and director Tony is convinced the most critical aspect of leadership is people. Empowering people to do more for the students they serve has become a passion of his. With over 15 years of administrative experience, Tony is excited to help professionals learn how to stretch themselves and lead in new and innovative ways.
Kayti Pfaffle
Adjunct ELL Instructor
BA, California Baptist University
MA, Morningside College
With 17 years of experience in education, including teaching all Spanish levels (1-4), Spanish for Native Speakers, and English as a Second Language. She has a Bachelor's degree in Spanish and a Master's degree in Education and ELL. She serves as the head ESL teacher for grades 9-12, the district coordinator for ELPA testing, and the district director for the Seal of Biliteracy.
Before teaching, she lived in Costa Rica and Mexico. She also spent time in other countries traveling, studying, interpreting, and participating in short-term missions. She currently teaches a Linguistics class as part of Midland University's ESL endorsement. In this class, she loves being able to share her ESL expertise, helping students engage in the course content online and offer a practical application for their classrooms. In her free time, she enjoys spending time with her husband and 4-year-old son, traveling, social-networking, and participating in Sunday school and women's events at her church.
Janeal Zechman
Coordinator of Field Based Experiences and Adjunct Faculty
BA, Tabor College
MEd, Northwestern Oklahoma State University
Janeal spent nineteen years as a secondary teacher and principal in private Christian schools in Oklahoma and Texas. She spent an additional ten years working for ACSI, where one of her major responsibilities was overseeing the accreditation process for Christian schools in a six-state region. She also helped plan and organize three teachers' conventions for the region each year. Additionally, she served on numerous accreditation visits throughout the United States and overseas.
After getting married in 2014, she moved to Nebraska to begin a new chapter in her life. She began working for Midland University in 2016 as the Field-Based Experience (FBE) Facilitator for the Walker School of Education and assisting students struggling to pass the math portion of the Core Praxis Exam. After one year, she began teaching Assessment for Learning at the undergraduate level and Continuous School Improvement at the graduate level while continuing her FBE placements and tutoring.
In 2019, the Core Praxis Preparation course was added to her undergraduate responsibilities to assist students who had not yet passed the Core Praxis Exam's math portion. She has continued to serve as a chairperson for accreditation visits annually. When Janeal married, she became a wife, mother, grandmother, and pastor's wife. Her husband and his late wife had six children. Several were already married by 2014, but three were still in the home. The first grandchild was born just twelve days before her wedding, so her "new chapter" was very full! Three more grandchildren have been added to the family. In addition to spending time with her family, Janeal enjoys making greeting cards and reading in her spare time.
Brent Cudly
Adjunct Faculty
MA, University of Nebraska-Omaha
Brent Cudly serves as the Director of Professional Learning and Federal Programs in Fremont Public Schools and works in the Professional Learning Department at ESU2. During nearly 20 years in education, Brent has taught or been a principal of students from preschool to college undergraduates. Brent began his teaching career in Plattsmouth and then moved to Fremont High School in 2002. After receiving a Master's degree from UNO, Brent was the AP/AD at Arlington Junior/Senior High School and was the Nebraska Middle School Principal of the Year in 2012. In 2012, Brent became the Principal at Johnson Crossing in Fremont Public Schools. From 2016-2019, Brent served in a combined role as both an elementary principal and the district's Director of Professional Learning for Fremont Public Schools.
Kate Hough
Adjunct Faculty and HAL facilitator in Elkhorn Public Schools
BS and MS, The University of Nebraska-Lincoln
HAL Endorsement, The University of Nebraska-Kearney
Kate Hough began her career as a Speech-Language Pathologist earning both her Bachelors of Science and Masters of Science from the University of Nebraska-Lincoln. Kate then went on to earn a HAL endorsement from the University of Nebraska-Kearney. Currently, Kate has completed half of the Educational Administration Doctorate Program from the University of Nebraska at Omaha.
As an Adjunct Faculty Member at Midland University, Kate has helped to develop and teach the following HAL endorsement courses at Midland since May of 2019:
Psychology of the Gifted (HAL 510)
Administration of Gifted Programming (HAL 530)
HAL Practicum/Seminar (HAL 599)
Kate also works as a HAL facilitator for Elkhorn Public Schools and teaches the Loyola Scholars Program at Creighton Prep. This is Kate's 20th year teaching and 10th year as a HAL facilitator.