The Walker School of Education works hard to provide programs that benefit learning outcomes and the students within our program.  With the help of our faculty students can not only benefit themselves, but they can also become leaders within their schools.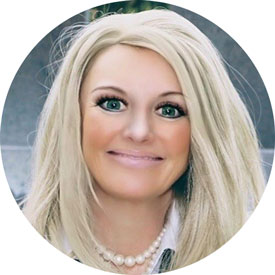 Dr. Sara Tiedeman
Dean, Walker School of Education
BS, MEd, Ed.D., University of South Dakota
Dr. Sara Tiedeman became the Dean of the Walker School of Education at Midland University in June 2019. Dr. Tiedeman previously served as the director of Northwestern College's Master of Education degree programs and the chair of the undergraduate Teacher Education department.
Before that, she was an associate professor at Arizona State University and a contract specialist and data analyst for edCount, which is based in Washington, D.C., and provides systems and services for educators across the U.S. Dr. Tiedeman has also taught at South Dakota State University, has experience as a K-12 teacher of English as a second language and district administrator of federal programs, and previously served on the executive board for the Council for the Accreditation of Educator Preparation.
Jamie Folkers
Administrative Coordinator and Certification Officer
Jamie Folkers has been the Administrative Coordinator for the Walker School of Education since 2016.  She has been the Certification Officer for Midland since 2019. She is a former elementary education teacher and youth director for her local church.  She graduated from the University of Northern Iowa with a BA and MA in Education. Jamie works with the dean of the Walker School of Education and all faculty to help coordinate all the behind the scenes work necessary to run the undergrad and graduate level programs offered at Midland. She also works with the Nebraska Department of Education on all things related to teacher certification. Her favorite part of working at Midland is seeing the dedication the faculty has in providing great experiences for students at the undergraduate and graduate levels.
Carla Noerrlinger
Director of Research Division, Omaha Public Schools
Adjunct Instructor, Midland MEd
As an educator, I was employed by the Omaha Public Schools (OPS) for 39 years serving in many different roles. After my retirement in July 2014, I became an adjunct instructor at Midland University in the Walker School of Education. In this capacity, I assist graduate students in the Leadership in Teaching and Learning program as they designed, researched, and implemented action research projects. Additionally, I have supervised elementary, middle school, and special education teacher candidates in their capstone clinical experiences.
I have a Master of Education in Administration and an Endorsement in Assessment certified by the State of Nebraska.
Dannika Nelson
Adjunct Instructor, Midland MEd