Learn More + Upcoming Info Session
---
Ready to grow and develop new skills that you can take immediately back to your position? Lock in your spot in our next Midland University informational session!
We'll cover our online MBA, MS-LTD program + more to ensure you get the full run-down of what Midland University CGPS has to offer you!
Midland University + FNBO Partnership Offers You a $4,000 Scholarship towards Midland's Online MBA and a $3,000 Scholarship towards our MS-LTD Program

MBA Your Way
With enhanced flexibility of our online program, students can choose their own path and the course schedule.

Invest In Yourself
Let your employer invest in your future! Take advantage of two years of tuition assistance through FNBO.

Expert Faculty
Learn from experts in their field – Senior Executives, Entrepreneurs, and Business Leaders, who know what it takes to succeed.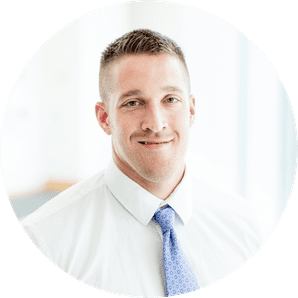 "Midland's scholarship in combination with the tuition support I received from TD Ameritrade made it possible for me to pursue my MBA"

Andy Richter
PROGRAM MANAGER, INVESTOR SERVICES STRATEGY AND IMPLEMENTATION
TD AMERITRADE
A Flexible MBA Designed for Working Professionals
---
MBA Your Way
Students will complete a 36-credit hour MBA with our customizable 'MBA Your Way' model.
Students will choose 5 courses from the Analytical course block and 5 courses from the Strategic course block. Towards the end of their MBA, students will complete a 6 credit Business Consulting Capstone to complete the required 36 credits.
With an online MBA, you can take advantage of your classmates' experiences and enjoy the flexibility of the online coursework to help you build a manageable school-life schedule.
| Strategic Courses | Analytical Courses |
| --- | --- |
| Business Process Methodologies | Cost Management |
| Corporate Strategy | Data Mining |
| Create Your Future: Starting Your Own Company | Intermediate Accounting |
| Integrated Marketing | Investment Management |
| Management & Leadership | Leadership & Value Creation |
| Marketing Management | Managerial Economics |
| Project Management | Managerial Finance |
| Strategic Communication | Operations Management |
| Strategic Sales | Statistics for Managers |
| Special Topics | Technology for Managers |
Complete Your MBA While Working Full-Time
With an MBA degree from Midland University, you will gain new leadership skills, learn from real-world professionals, and network with organizations hiring managers who are looking for someone with your experience!
Grow Your Professional Network with Our Online Model
Our MBA focuses on mentorship, networking, and interfacing, made possible through our relationships with our MBA corporate partners and other organizations in the community.
In this program, students can also network by:
Attending upcoming virtual events
Visiting local organizations
Attending virtual guest lecturers
Going to on-site lunch and learn opportunities
Students will also be immersed in discussions and coursework that are geared towards networking success during our MBA program.
Earn an Applied Leadership Certificate with Your MBA
Earning a certificate of completion in a specific field can help you reach your career goals and highest potential. While completing a certificate of completion isn't required, it can help you advance in your career and reach your salary goals by proving competency and specific skills in a given area.
Students can pursue a certificate of completion as part of Midland's Master of Business Administration (MBA) program. By taking four courses in a concentrated area of interest, students can earn their MBA with a certificate of completion in a specific area of study.  Earning a certificate of completion is not required for the fulfillment of the MBA requirements.
No GMAT Required
Unlike many other programs, the Midland MBA does not require a GMAT score; we strive for a diverse student body which brings many backgrounds and experiences to the program, broadening all students' understanding of business applications and programs.
Free 10-minute Online Application
Applying to Midland's MBA has never been easier with our online application!
Our Learning Talent & Development Program
---
Become A Relevant Leader
The MS-LTD program is designed for individuals currently working with, or wanting to work with, adult learners in a variety of individual and collective learning environments. Using a constructivist approach to building knowledge and capacity, faculty and learners develop and enhance instructional/program design, facilitation, assessment/evaluation, and research skills in a collaborative and professional environment.
Students will complete 33-credit hours total in our LTD program. The required core courses make up 27 credits. Students will also have the opportunity to earn an area of emphasis in either Coaching and Mentoring or Adult Education.
| Required Core | Areas of Emphasis |
| --- | --- |
| Foundations of Evidence-Based Learning | Coaching & Mentoring: |
| Strengths-Based Leadership | Building Individual Learning Capacity |
| Understanding the Adult Learner | Coaching & Mentoring in Learning Environments |
| Diverse Learning Context | |
| Organizational Learning Strategies | Adult Education: |
| Leadership Theory & Application | Cultural Foundations of Adult Learning |
| Facilitation Adult & Organizational Learning | Instructional Design & Technology |
| Program Design, Administration, & Evaluation | |
| Training Program Capstone | |
Let Us Help You Maximize Your Tuition Reimbursement
---
| | | | | |
| --- | --- | --- | --- | --- |
| $23,500 | – $4,000 | – $5,250 | – $5,250 | = $9,000 |
| MBA Tuition + Fees | Exclusive Partner Scholarship | Year 1 Reimbursement | Year 2 Reimbursement | Out Of Pocket |
*Graduate Aid Available
| | | | | |
| --- | --- | --- | --- | --- |
| $14,850 | – $3,000 | – $5,250 | – $5,250 | = $1,350 |
| LTD Tuition + Fees | Exclusive Partner Scholarship | Year 1 Reimbursement | Year 2 Reimbursement | Out Of Pocket |
*Graduate Aid Available
Ready to Earn Your Graduate Degree?
Or want to talk to an advisor? Schedule your call.